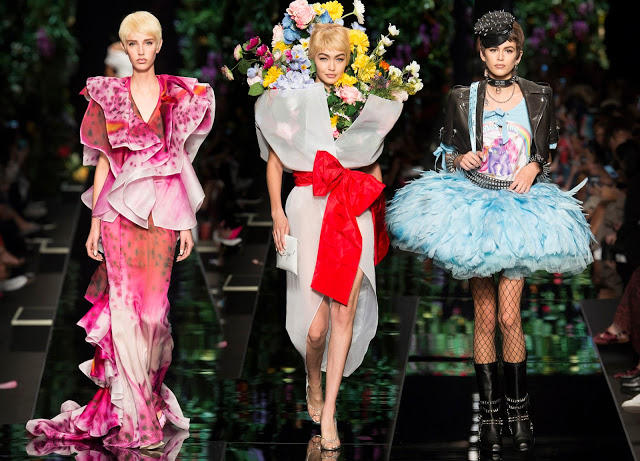 Guest Post by Sophia Smith| 5 Styling Tips You Can Steal from Spring 2018 Runways
Every runway season comes with its own set of surprises. Designers showcase their artistry and then it's upon us to make the trends work in real life. Translating runway trends into everyday wear is not always the simplest feat, as was, for instance, the case with Moschino's line that features multitudes of feathers and actual flower arrangements 'posing' as dresses. However, it's our job as fashionistas to look beyond the surface, notice the fine details and the recurring motifs so we can transform them into something familiar but new, trendy but wearable, and that's precisely what we're doing today.
1. Bold and Feminine
Millennial pink has in the past couple of years been one of the most dominant hues out there, present in both couture gowns as well as athleisure pieces. Still, uniformity has never been a trait of the fashion universe, and along with the famous pink hues there is plenty of room for bolder shades. Taking a cue from the queen of modern-day sophistication, Carolina Herrera, this year don't be afraid to rock dark and powerful purple, and also don't refrain from placing a pop of brightness into the mix.
If your lifestyle allows you to play with breezy gowns, make a purple one your next purchase, but if not, a great alternative can be found in a purple pair of straight leg pants complemented by a breathable yellow blouse and pumps to match. Finish the look with a sleek orange or tote and you'll have channeled the Herrera color palette in a way that is original and yours.
2. Florals Reinvented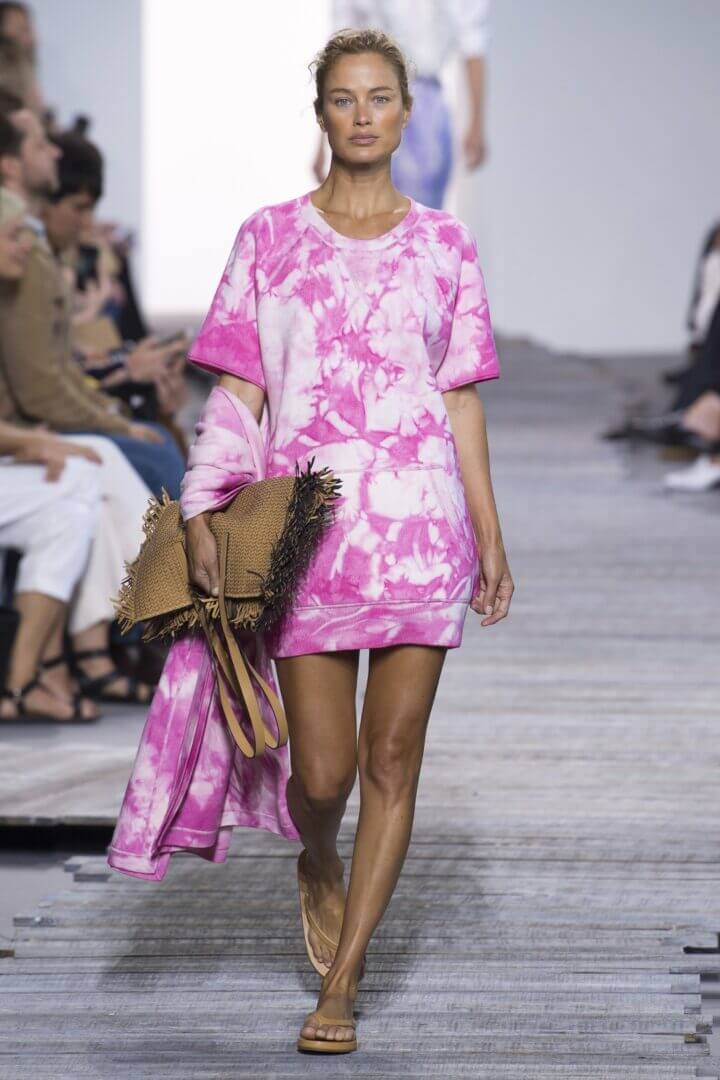 Make no mistake, the floral print will still be going strong in the upcoming season, but it will be taking on a more tropical shape and vibe. Michael Kors did a wonderful job with his vacation-inspired lined, but it's safe to say that these designs should be seen in places other than the beach. Simply make sure the cut of your next summer dress is playful and allows for plenty of movement, and then you can choose between true blue and pastel pink enriched with hibiscus and palm tree motifs.
If pastels aren't your style cup of tea, embrace murkier and bolder hues, but in both cases, style the look with burlap-inspired bags and bring the tropical vibe with you wherever you go.
3. Mix and Match
There are many ways to describe spring trends, and bold is definitely at the top of the list. This season be brave and don't stray from matching different prints and even clashing colors. The two prints that simply crave to be paired up are plaid and stripes. Evoke the equestrian vibe with a pair of fitted high-rise plaid pants in a mixture of black and dark yellow and add a gentler color palette on top.
Keep the stripes nice and pastel for contrast, and even though heels will do wonders for elevating the look, flats are the official shoe of the season, so you are free to rock mules and slides as well, and don't forget to knot a cardigan around the shoulders for a stronger impact.
4. Mismatched Accessories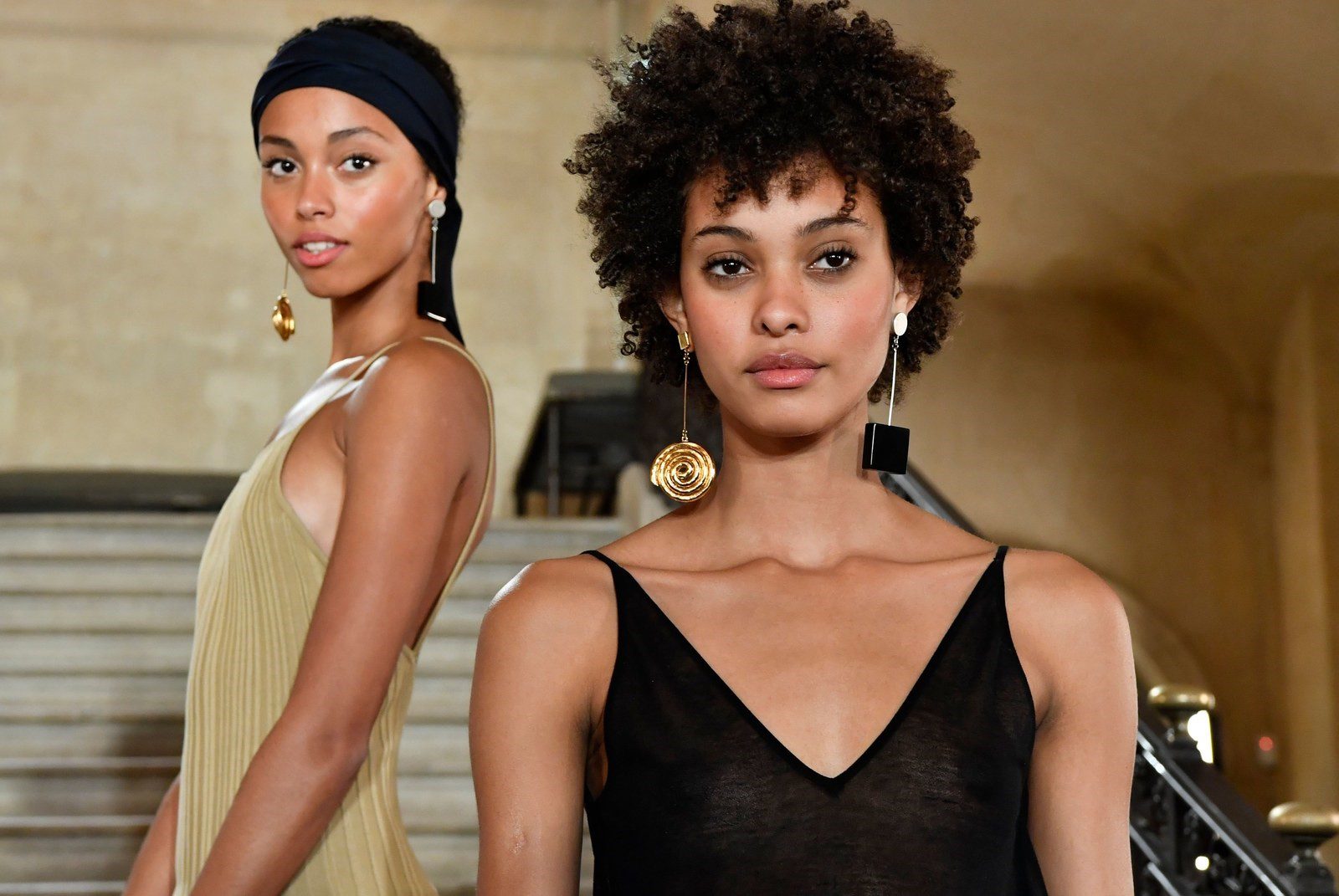 There is more than one thing that left us impressed after seeing the Jacquemus collection, but if we have to choose one it would definitely be related to accessories. The models were seen wearing long statement yet minimalistic earrings but that is not the interesting part – the peculiar and surprisingly chic thing was – the earrings didn't match. One was gold with a circular shape, while the other was black and square-shaped.
What was once a fashion no-no now has the Jacquemus stamp of approval, but when pulling this trend off, make sure to keep the mismatch accessories in the same style family – minimal with minimal, boho with boho.
5. The air of mystery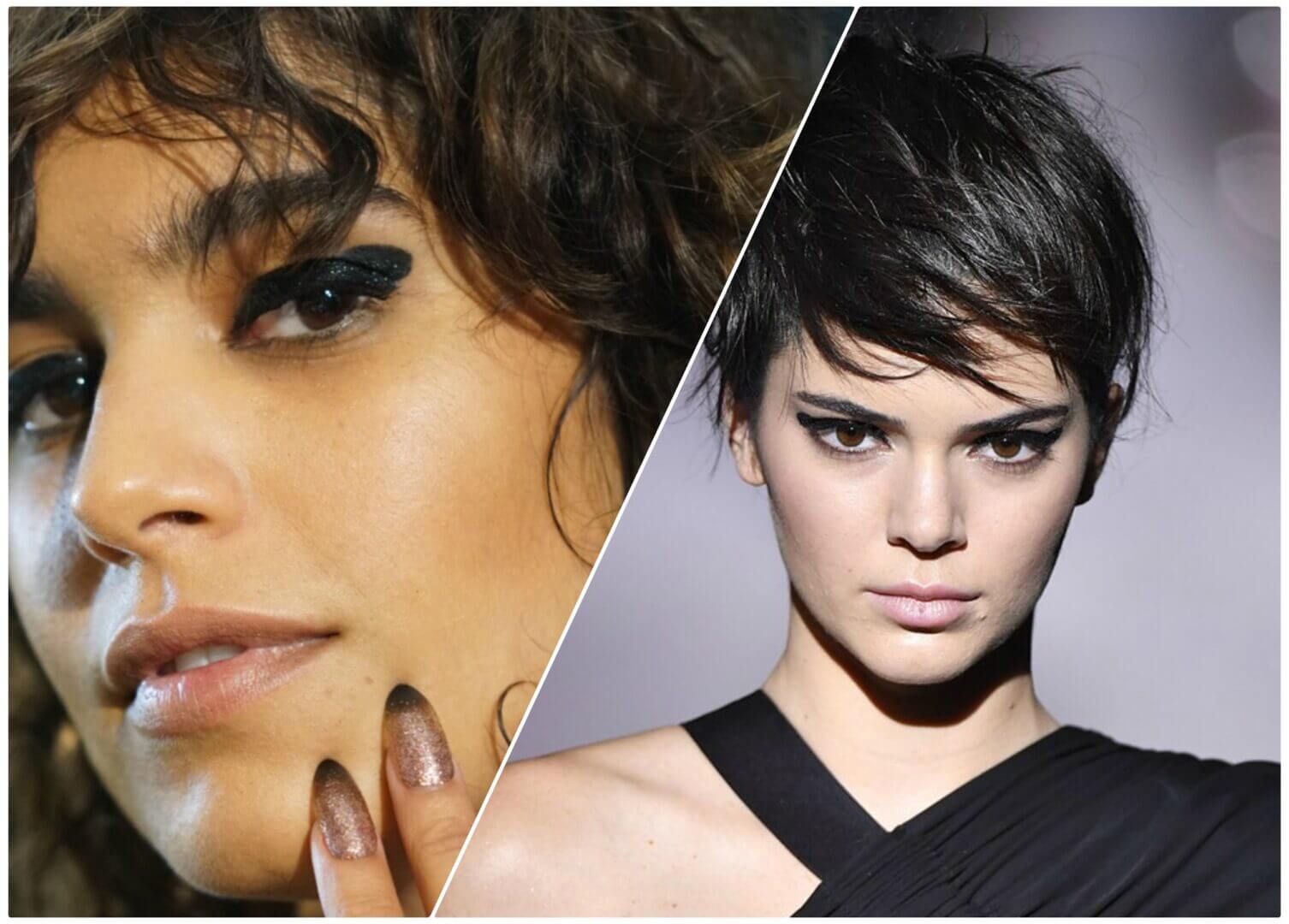 We loved the bare and natural faces on Michael Kors's show, as well as the newest trend all the way from Milan – the soft focus stained lips. However, the one makeup trend that knocked us off our feet was the one seen on models walking for both Marc Jacobs and Tom Ford. The things these two shows have in common are the impactful, badass eye looks with plenty of eyeliner on both the upper and lower lash line and of course, the inevitable eyelash extensions for added drama. The look definitely works best when the rest of the face is understated, and if you're rocking a tomboy haircut – all the better. Still, if short hair isn't exactly up your alley, you can always take a cue from Marc Jacobs and ensure plenty of drama and mystery by throwing a turban into your style game.

BIO:
Sophia Smith is an Australia-based beauty and style blogger. She is very passionate about the latest fashion trends and graphic design projects. Sophia writes mostly about fashion-related topics in her articles. She has contributed to a number of publications including: High Style Life, Viva Glam Magazine, Just Haves, How to Simplify and Carousel.
You can find out more about her writing by following her on:FacebookTwitterGoogle + 
Photos taken from: WWD.com, Glamour.com, Vogue.com, &  Nickverrreos.blogspot.rs