Biker shorts are easy to wear and comfortable making them great for hanging at home or hiting the street. They can accentuate your legs, making you look long and lean, or show off your curves when paired with a crop top. Biker shorts are the perfect complimentary piece to every woman's wardrobe and can elevate your style — I can't think of a better piece, especially in these times. Have you tried to style biker shorts yet? Here are 4 ways to style biker shorts for a casual and cool athleisure outfit that's oh-so cozy!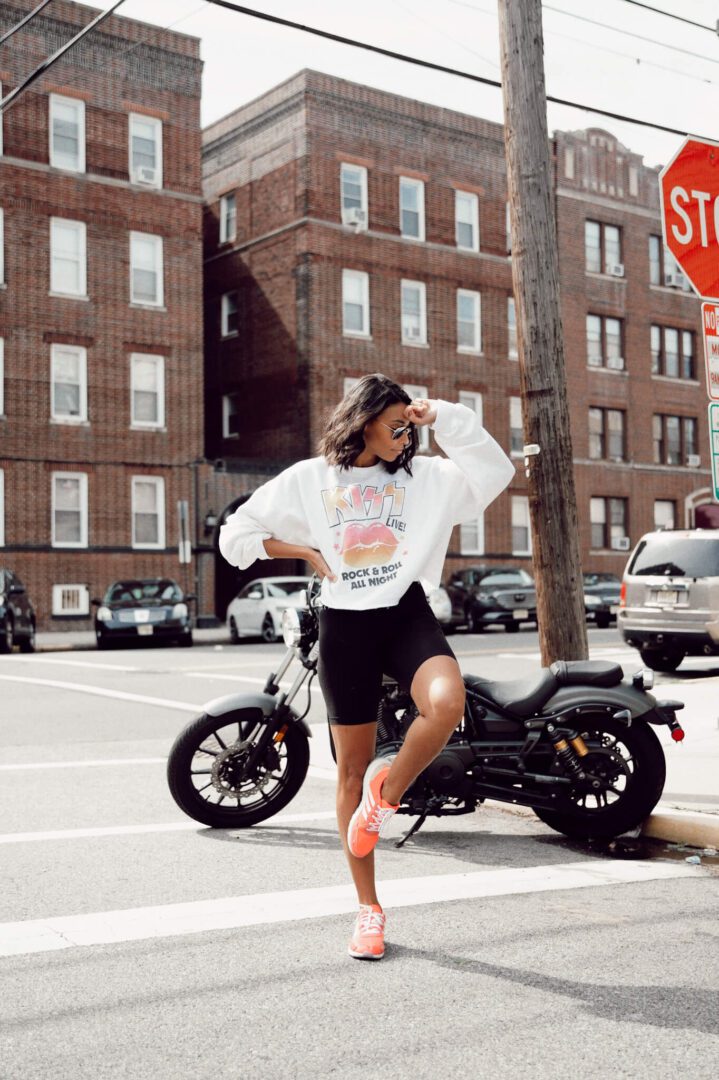 1
Graphic Sweatshirt
I love a good graphic sweatshirt, style biker shorts with an oversized graphic sweatshirt for a day full of cool girl — cozy vibes.


2
Oversized T-shirt
I'm a fan of the oversized t-shirt especially when paired with biker shorts. You can wear your biker shorts without showing too much of your assets because the oversized t-shirt covers all the goods. It's also a great way to be comfortable while looking trendy.


3
Cropped Sweatshirt
The cropped sweatshirt has become an athleisure staple all year long. You can layer or wear alone and pairs great with biker shorts. Shop my Futbolr cropped sweatshirt here.


4
Cropped tank & Cardigan
Style biker shorts with an oversized cardigan and a cropped tank for the ultimate balance of flirty and modest. It's sporty and chic look you'll be sure to love!

For daily style inspiration and a chance for us to connect everyday, follow me on Instagram! I post on my stories daily for a look behind the blog and much more!

Shop my looks
*Click here for Green Cropped Futbolr Hoodie*
*My white sweatshirt is sold out*

Great places to shop Biker Shorts
Which is your favorite way to style biker shorts?
---
DISCLOSURE| SOME OF THE LINKS ABOVE ARE AFFILIATE LINKS, MEANING AT NO ADDITIONAL COST TO YOU, I WILL EARN A COMMISSION IF YOU CLICK THROUGH AND MAKE A PURCHASE
Post Photos taken by Jonathan Paul