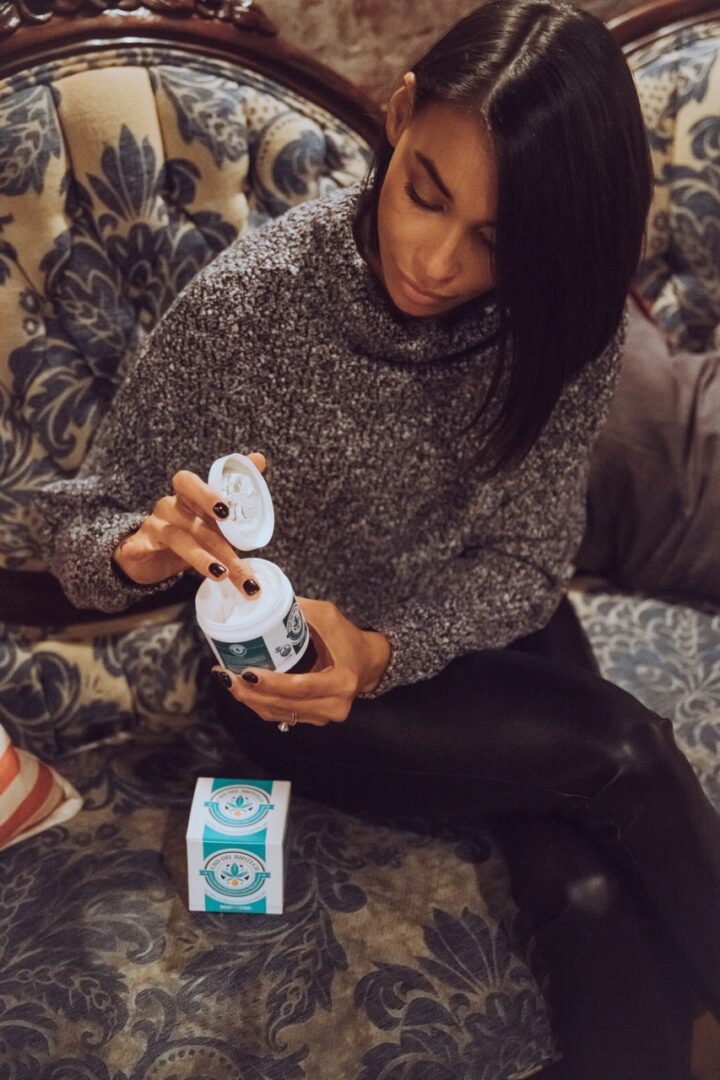 There's been much hype about CBD coming to the health and beauty market; the benefits seem to be never-ending. We all experience muscle pains and aches at some point in time be it from post workouts or even just sleeping wrong (have you ever experienced a stiff neck?) What if I told you a new form of pain relief comes in a cream that has cannabis?
Yup! There's a new type of cream on the market, and it's infused with the cannabidiol (CBD) from marijuana… CBD is similar to THC, except it's non-psychoactive, so no it cannot get you high!
But Dileiny what is CBD Cream?
CBD pain creams are for sore muscle areas to heal inflammation and reduce pain.
Some of the key ingredients of the one I am using are: Menthol, CBD Infused Hemp Oil (Derived from Industrial Hemp), Purified Water, Mineral Oil, Aloe Vera Gel and (Vitamin E).
My work is to sit at a desk all day and type away, so I'm bound to have bad posture and dead weight on my neck and shoulders area, not to mention my tendonitis from years of using a keyboard (Sigh!)
My husband is no stranger to muscles and joint aches either; he has arthritis, so he has Tiger Balm and Icy Hot at arm's reach typically. When I heard that CBD Oil helps relieve pain and muscle soreness, I did some research and brought it home to help me and my family get some pain relief around here!
I had a crazy day last week; I had to be up super early get the kids to school, then rush back home to get myself together for a photo shoot. For my shoots, I have to lug around all my clothes and shoe changes, after the shoot I shot back home and typed away on my keyboard to update the blog. Of course, to no surprise, I had such aches on my back, neck, and shoulders.
I whipped out the best CBD cream and rubbed CBD Oil Biotech Pain Relief Cream into my achy muscles, and within minutes I felt the relief! Not even kidding you guys it worked super-fast!  I was so excited that I made my husband try it and of course this was a game changer for him too! I also felt a sense of relaxation a few minutes after application, which was also a plus!
Before my husband tried the CBD Cream he was a tad skeptical, and I don't blame him, I think all of us are like Cannabis? But wait is it legal?!
CBD's legal status in the United States is unclear, but many state governments have considered CBD to be legal, and you can purchase off the shelf at many health food stores and smoke shops.
There are six states where CBD is technically illegal: South Dakota, Idaho, Kansas, Nebraska, Indiana, and West Virginia (Just an FYI).
There is a loophole in the current laws, though if CBD derives from hemp, the non-psychoactive variety of the cannabis plant, legal to distribute throughout the United States. So for you worry warts out there, do not fret, you will not get in trouble for rubbing some CBD on those sore muscles!
When to use CBD Cream:
Before exercise to help loosen those muscles up
To help speed recovery after a workout
For arthritis pain
For muscle spasms that come from Multiple sclerosis
Any chronic pain
CBD and medical marijuana have been used for a long time on cancer patients who experience some tough times and pain, so it's not a surprise that that same stuff is going to help those of us with our aches and pains.
Diamond CBD carries a slew of CBD products if you wanted to try it in a different form they have oils, vapes, edibles, drinks, dabs (to add to your food) and even meds for your pets (your pet will love you!)
My overall takeaway is that it works, you guys! Besides pain relief, I do think there's the added benefit of the calming effect I get from CBD Oil products.
What do you guys think about this new way to relieve pain, will you try?
---
This shop has been compensated by Diamond CBD and its advertiser. All opinions are mine alone. 
Photos by Jonathan Williams