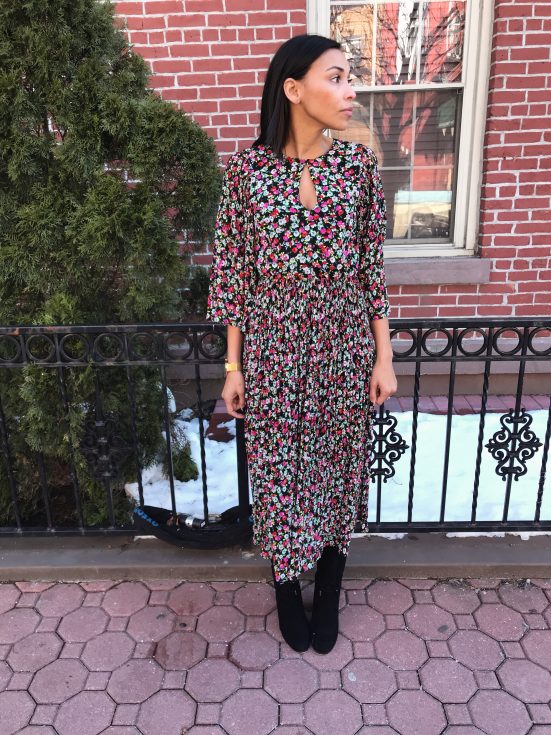 We all know we should do our bit to buy ethical clothing. In the modern age, it's impossible to bury your head when it comes to issues of ethics. As well as terrible working conditions, many of our favorite fashion brands damage the environment. But, our knowledge of this doesn't necessarily prompt us to make changes. After all, when you're a mom on the go, it's easier to stick with what you know. You don't have time to hunt for new brands which do it better. If you want to treat yourself to clothes, you're limited to what's available, aren't you?

What if I were to tell you that getting ethical with clothing isnt as hard as you think? Here are 4 ways to make your wardrobe more eco-friendly. 
1.

Research

 

Brands

 Online 
Admittedly, there will be some time spent in the beginning to get your head around which brands work best. You can be sure that your high street favorites are likely off the cards.  But, even this task doesn't have the be the mountain you're expecting. After all, we all have easy access to search engines which can give us the answer in one easy query. To help get your list off to a flying start, make a note of these leading names in ethical clothing –
And, that's far from the only options available to you. What's more, that whole list took less than five minutes to put together after an online search. So, get to it and find out which brands would work best for you. You could even do this while the kids are eating their breakfast or brushing their teeth. That means no excuses!
Once you know the brands to look out for, you'll be in the best position to get started stocking your ethical wardrobe. Only, you don't have time to go hunting down their stores, so you might want to…
2. Shop Online
Let us not forget that we're living in the 21st century. As such, you can easily shop online from any brand you can think of. Again, all it takes to find their site is typing their name into a search engine. Without even having to leave the sofa, you can then gain access to all the stock you'd get in a store, and sometimes more. Even better, you can keep an eye on your kids while you shop. So, don't hesitate to visit the website of brands like Manale International as soon as you get a spare moment. Often, you can even put items in your shopping basket and come back to them when you get the chance. You don't get convenience like that on the high street. In fact, the chances are that you'll never look back once you get into the habit of shopping this way. And, all the while, you can rest that you're supporting brands with decent ethics behind them.


3. Shop Secondhand
Of course, it's not all about knowing the best brands to buy from. You can also do your bit for the environment by shopping secondhand. Not only does money spent here often go to charity, but you're also ensuring less environmental impact by turning to old clothes rather than new. After all, these items were produced a while ago. As such, they can't do any more damage to the environment. What's more, this is still in keeping with your time-pressed life. Most towns now have at least one or two stores like this, so it should be easy enough to get on top of.

Many of us fashion folk may never have even considered shopping this way before. And, there's no denying that second-hand clothes stores can seem a little overwhelming. Forget neat racks on colour-coded clothing. You'll need to rummage if you want to find the pieces which speak to you. What's more, there won't be multiple different sizes of the same item on offer. It's merely a case of taking it or leaving it. But secondhand shopping is actually a fantastic way to get on top of unique fashion. When you find gems (and you will), they're sure to be better than the latest Zara styles you see everywhere. And, all you need to make it work is the following pointers:
Don't be afraid to get stuck in

Try things on

Forget about size. Things might fit better than you think

Have an open mind to everything you find
After a few successes, there's a chance that second-hand stores will become your new favorite places. And, of course, the environment will thank you for it.

4. Repurpose Clothes 
In keeping with the idea of making use of old clothes, you could even repurpose items from your wardrobe. Instead of chucking things out to keep up with fast fashion, why not alter your clothes to fit the latest trends? Again, this has the benefit of being an option without leaving the house. In fact, you could make this part of craft-time with the kids. While they stick paper to their heart's content, you could get stuck in with sewing fabrics on old clothing. Something as simple as a patch or some embroidery could breathe life into old clothes. And, again, this has the benefit of being unique. After this, no one will have an item quite like yours. What's more, you didn't even have to find shopping time to achieve it. And, you can rest easy that you're doing your bit as a responsible consumer. Can't say fairer than that.


So, stop making excuses. Think twice before shopping with brands you know to be harmful. Instead, embrace the eco-friendly choices available to you. Your efforts could well bring a breath of fresh air to your wardrobe as well as the planet.

Do you have any additional tips to help make a wardrobe eco-friendly? Sound off below!
DISCLOSURE: SOME OF THE LINKS ABOVE ARE AFFILIATE LINKS, MEANING, AT NO ADDITIONAL COST TO YOU, I WILL EARN A COMMISSION IF YOU CLICK THROUGH AND MAKE A PURCHASE.