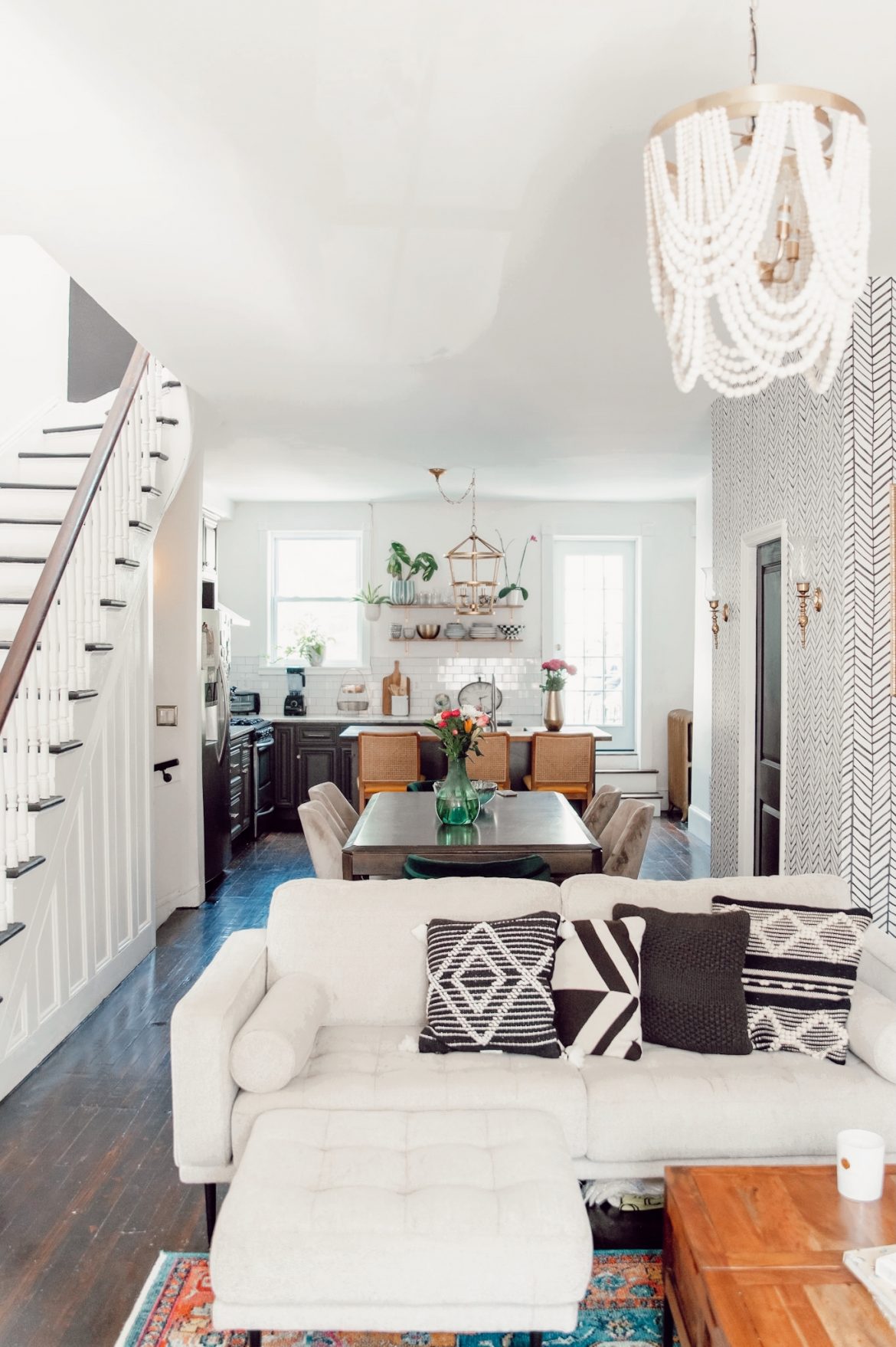 My husband and I purchased a fixer-upper brownstone less than a year ago. The brownstone renovation is finally done (well almost)! I hope that my home can help you find all the right pieces and serve as an inspiration for your home styling. If you're amidst a renovation, I feel your pain — but it'll be worth it, I promise! I shared our backyard and terrace last week, if you missed it click HERE. Scroll below to see the scary before pictures and the transformation. I've shared our inspiration, as well as all the shoppable links to my furniture and decor.

Main Level (floor 2)
My middle floor is the main level where my kitchen and living room are. Originally, the main level had no kitchen or bathroom. The brownstone renovation plan included adding a 1/2 bathroom, kitchen and tearing down all walls to make an open floor plan. We had a blank slate with the kitchen, thanks to our good friend, Ben, from Green-Wood Builders — he designed the kitchen layout. He designed it to best serve our decor preferences and lifestyle. We were torn between a T-shape island to serve as a dining table and a standard island. As much as I love a modern home, I have my traditions of hosting and wanted the space for a traditional dining table. Here are the before and after photos of the main level, which include the living room, kitchen, and half bathroom.



Kitchen (floor 2)
The kitchen renovations included shortening a window to allow for counter space, and turning a window into a door to the terrace. Water pipes and electricity for the sink, range, dishwasher, and fridge. The kitchen features a standalone island with a butcher block countertop and the rest of the counters are granite. We went with a slate gray for the cabinets with brass hardware. A cage-like gold chandelier hangs over the island and to save money we went with open concept shelving for our dishes.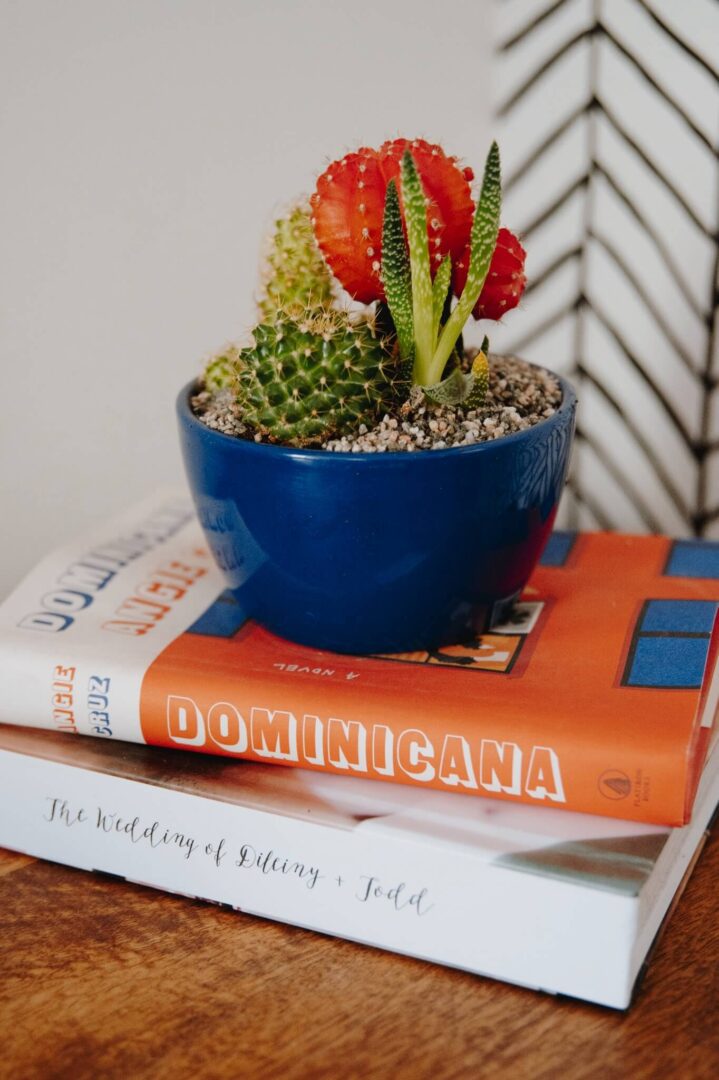 Master Bedroom (floor 3)
The master bedroom renovations included building two closets, a walk-in closet, and a wall-to-wall closet with shelving over it. We removed the faux vinyl flooring and restored the original hardwood floors, we modernized the lighting and gave the room a zen/boho feel.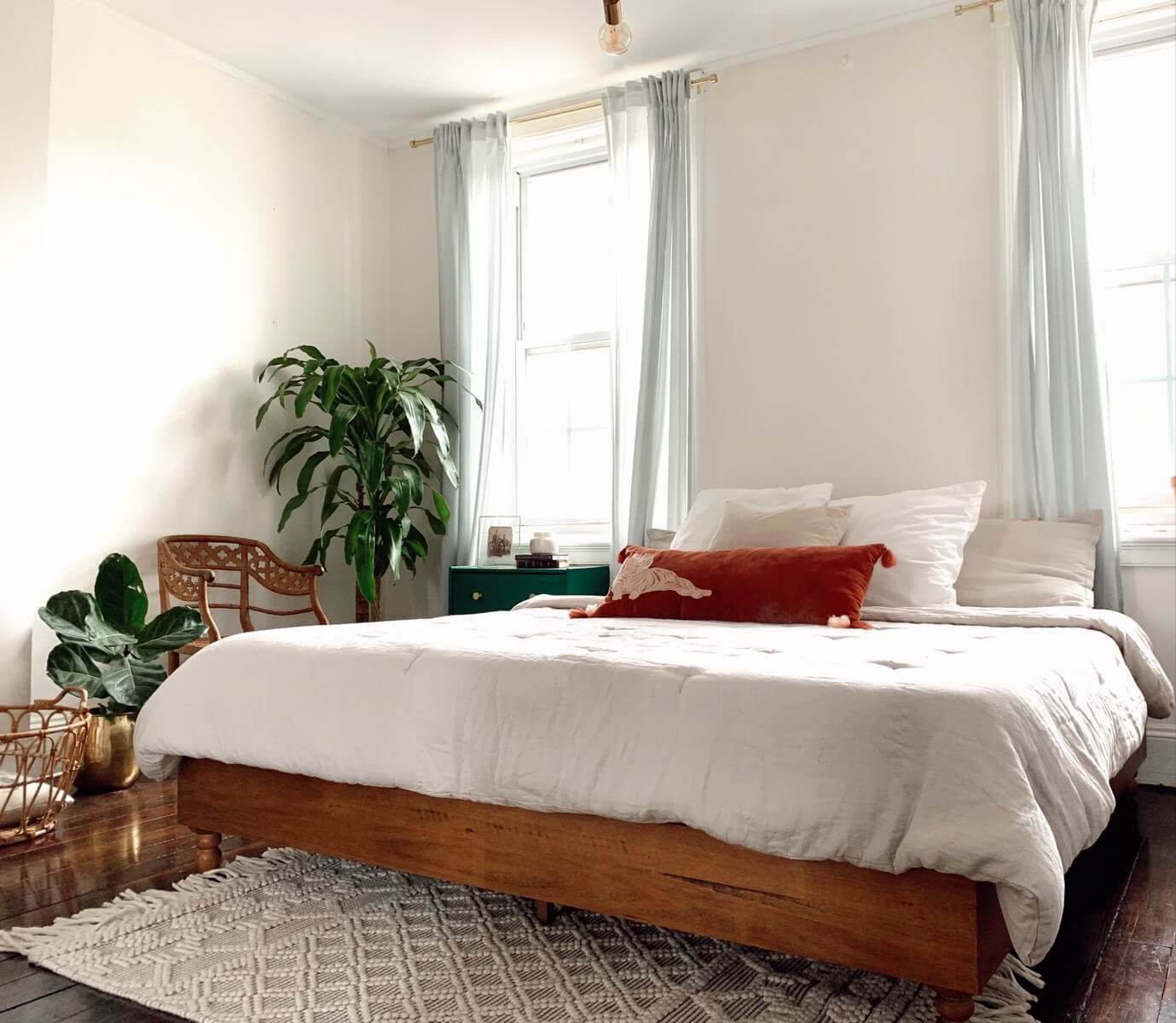 Hallway (floor 3)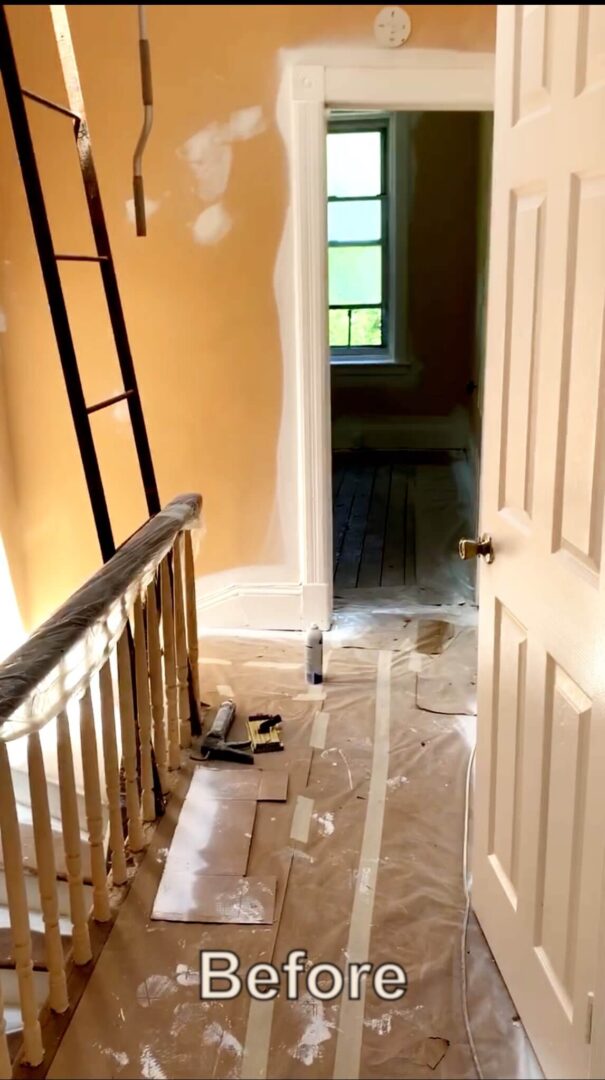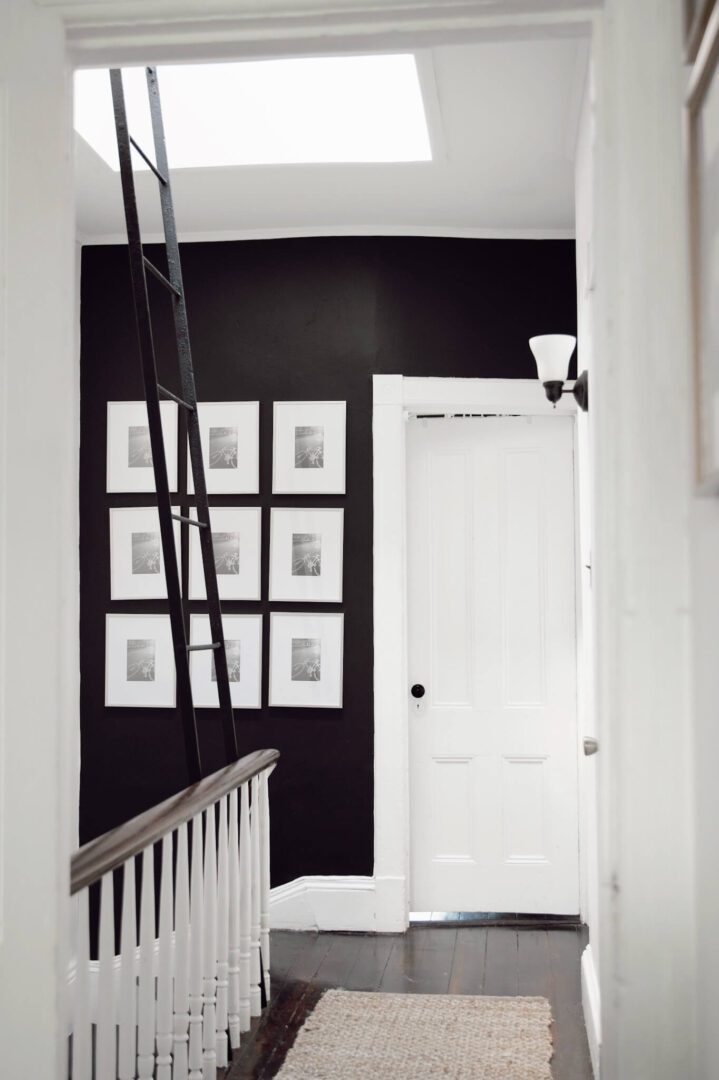 Exterior
The exterior of the house is still not exactly where we want it. We'd like to install new railings and rebuild the steps, but we've come a long way from what it was.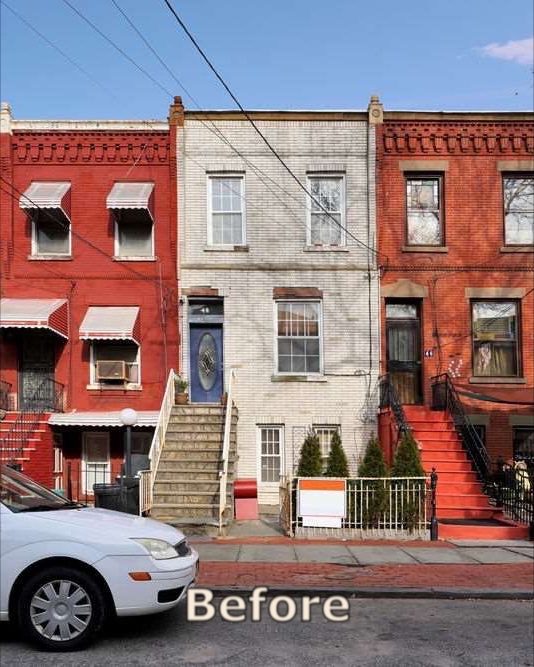 Guest Studio (floor 1)
Originally, floor 1 housed the only kitchen in the house and it was an open floor plan. We put up walls, moved the kitchen, and added a full bathroom, laundry room (not photographed), gym (not photographed), and a back patio right before the entrance to the backyard. We decided to have a guest studio for friends and family who visit from out of town but also as an option to AirBnB. The guest studio has its own entrance and is separated by walls and a door from the rest of the house.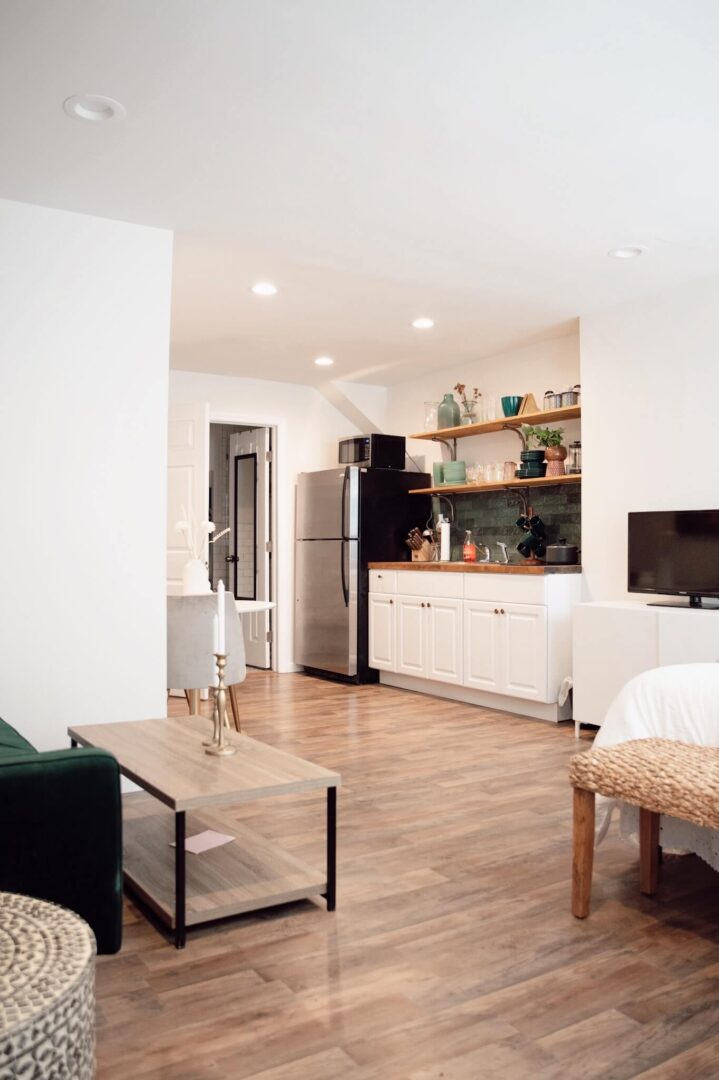 Back Patio (floor 1)
Prior to this being our back patio it was actually a half bath and mudroom, right before entering the backyard. We ended up extending it since the structure was already there and it didn't take away space from the backyard, a no-brainer to another area within the house to hang in. This also became the inspiration for building our terrace.
New Jersey Contractors used to renovate my brownstone:
Rodriguez Construction | Greenwood Builders 
Shop my home
What do you think of our brownstone renovation?!
If you love home renovations head to my story highlights on IG HERE >> for more before and after videos!
---
DISCLOSURE| SOME OF THE LINKS ABOVE ARE AFFILIATE LINKS, MEANING AT NO ADDITIONAL COST TO YOU, I WILL EARN A COMMISSION IF YOU CLICK THROUGH AND MAKE A PURCHASE.
Post Photos taken by Jonathan Paul
Download my e-book!