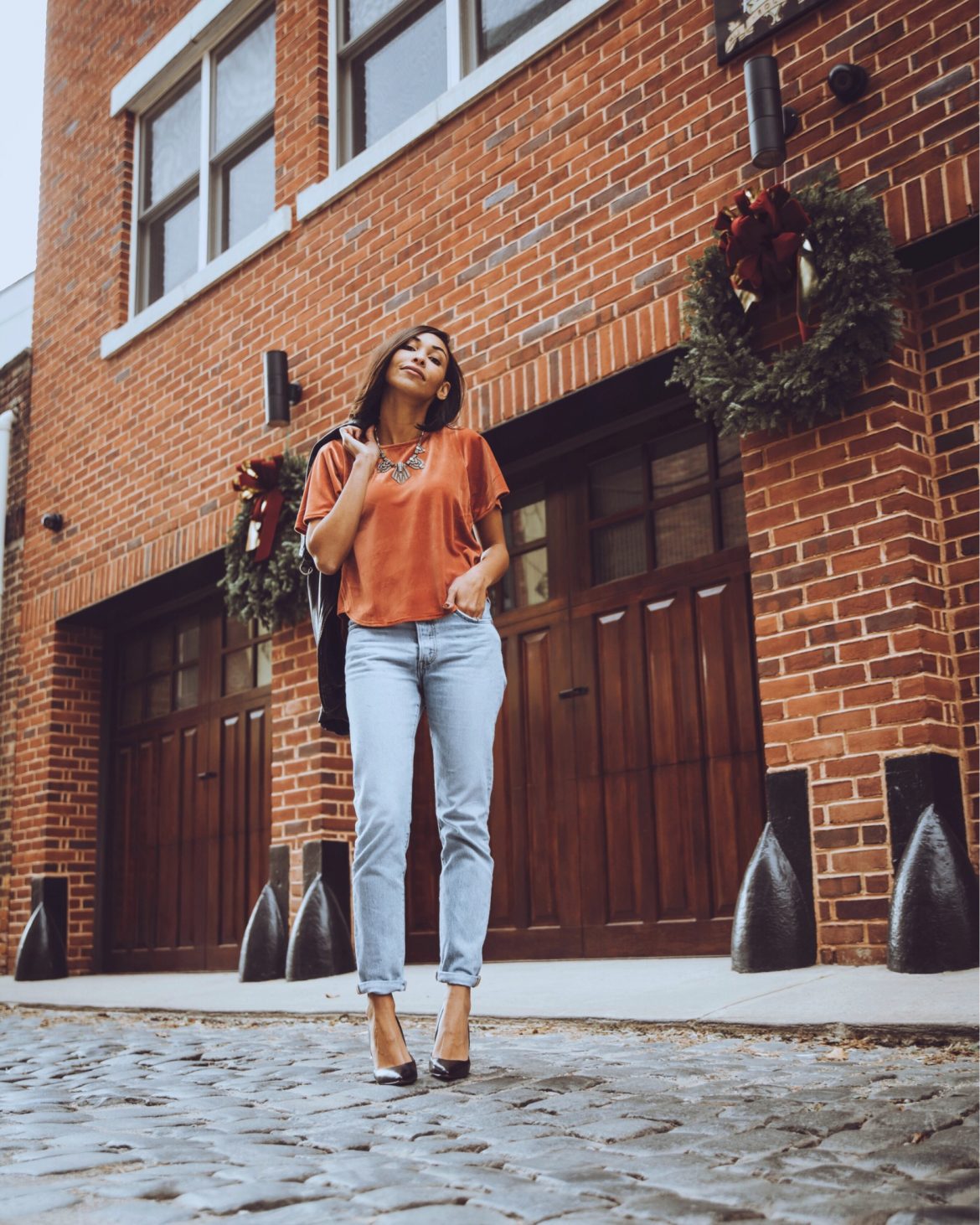 Yes, velvet is tied to the most royal, and why wouldn't it be? It's gorgeous, super-soft and has such a luxe texture. Even with all of its fashion-friendly perks, I've struggled with wearing velvet. It always feels like I'm trying too hard. I guess you can say the same thing about sequins, but I've somehow managed to get over the drama of sequins and make it work for me. I always have my eyes open for a more smooth and cool velvety piece, and low and behold, I found it– a velvet tee!

The excitement of my new favorite tee led me to find some more cool velvet tops to pair with jeans. But Dileiny, when and where do I wear velvet? I think the perfect time for velvet is now! If you have a New Year's Eve party to attend pairing a velvet top and jeans is super chic. If you have a date night with hubby or even a girls brunch, velvet in the winter months works anywhere. Alternatively, if you want to wear velvet with nowhere to go and no one to see, that's ok too! As usual, just pair with flat or sneakers. Guys, all of these tops are from Nordstroms get these all on sale and Treat Yo'self with the Nordstrom Half-Yearly Sale! Get up to 40% from December 26 – January 2. Free shipping and returns on all orders

 How do you guys feel about these velvet tops? Yay or Nay? 

Shop the Post
---
---
DISCLOSURE| SOME OF THE LINKS ABOVE ARE AFFILIATE LINKS, MEANING AT NO ADDITIONAL COST TO YOU, I WILL EARN A COMMISSION IF YOU CLICK THROUGH AND MAKE A PURCHASE.
Photos by Jonathan Williams