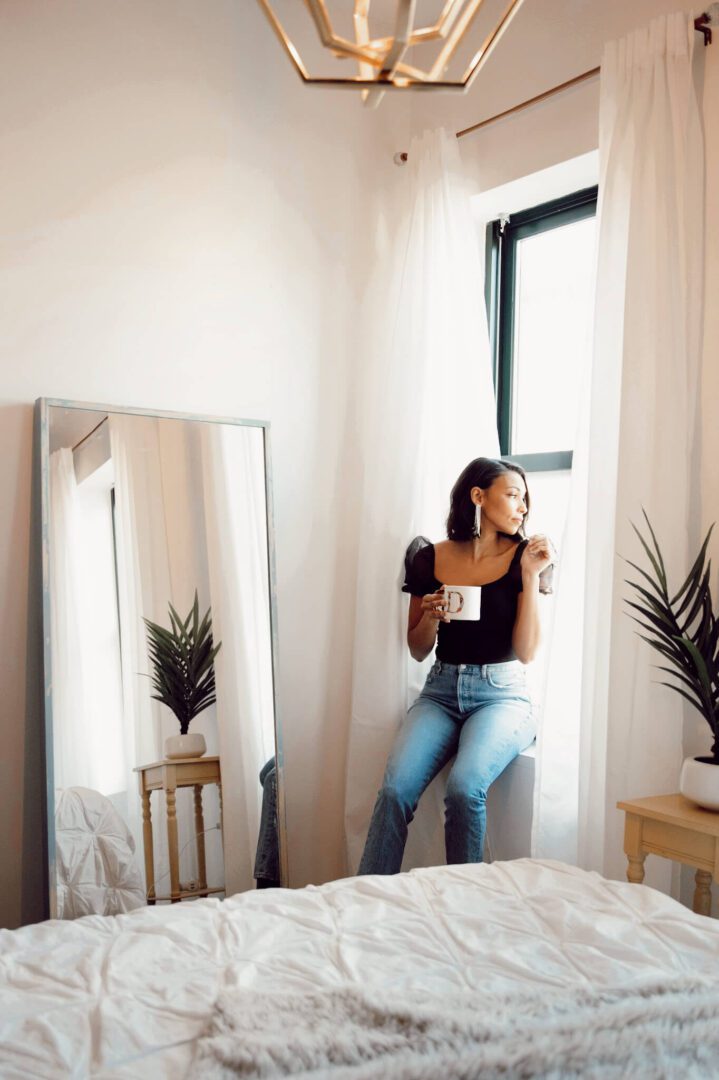 With all the time I've spent at home it's no surprise we're here, an article about home décor. My bedroom is my favorite room in my apartment because it's the one I put the most thought into when I redecorated. It has the best lighting in the whole apartment so I tend to shoot all of my content in there, especially my IG story videos. If you're a friend of the blog you'll recognize these photos of my bedroom and you may have asked me about my circle mirror above my bed or the color of my bedroom wall. My bedroom wall was actually the thing that took the longest to decide on. I was stuck choosing between paint or wallpaper for a long time, but now I've decided and it's finally complete!
A lot of people have shown interest in the style ideas I've used, so if you are one of those people, today is your day because all of the details on my small bedroom décor are below!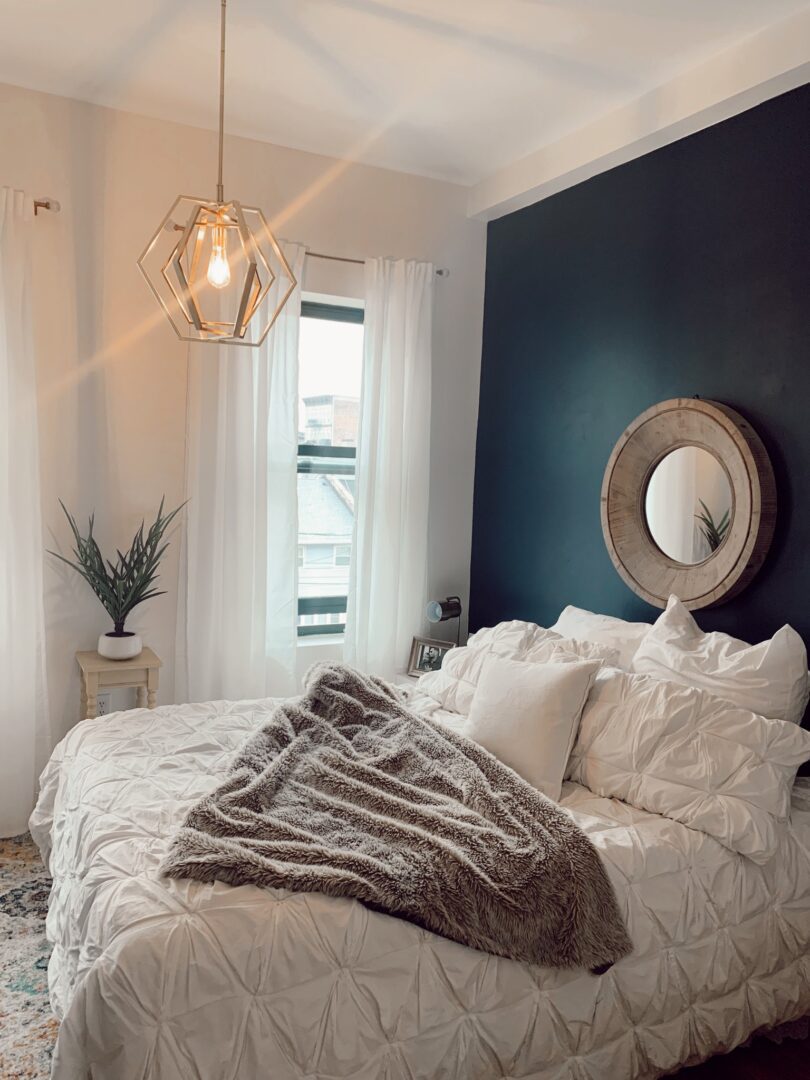 What's your style?
I love a clean clutter-less look and very much like my personal style (the way I dress) I like things to look chic but effortless. My bedroom style is bohemian influenced with a modern twist. Here are bohemian pieces you can add to your small bedroom décor.

Gold/Brass Hardware
If there's one color accessory I couldn't live without it's gold. I wear mostly gold rings and bangles so no surprise here, I changed all of the hardware in my bedroom to gold. I especially love my hanging gold pendant light. I used to have a generic light cover and decided to switch it out to make more of a statement and at under 100 bucks, I had to.

White
I'm not the biggest fan of prints on comforters, I'd get sick of it pretty quickly so I've always loved a white comforter. This one has a little more personality with the pinched fabric detail. Since my bedroom is small, I didn't want to overwhelm it with dark curtains and I love natural light (maybe not much in the morning but that's why I wear an eye mask) so white curtains for the win!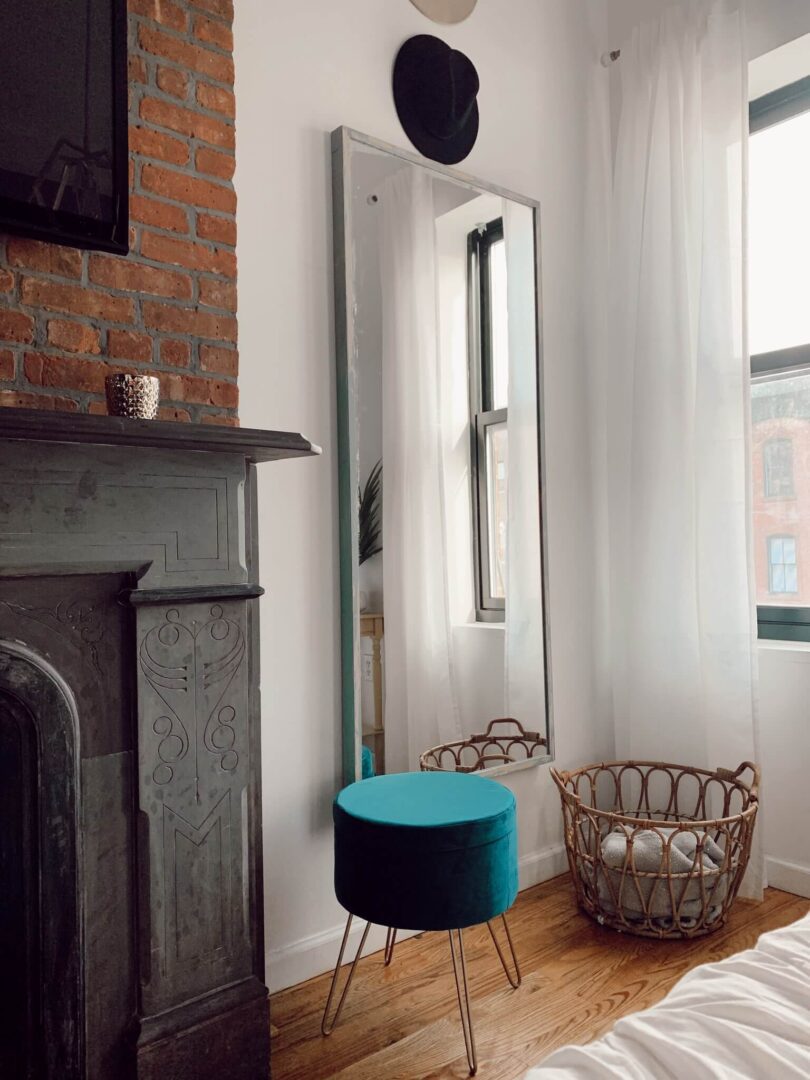 Pop of color
Adding color to your small bedroom décor is what's going to make things come alive and not look so plain. I added color to one wall (behind my bed) then I added color pieces: a turquoise stool, a yellow plant stand and a bohemian inspired area rug. The area rug ties it all together.

Statement Piece
Every room should have the one piece that makes a statement, for my bedroom — it's the round mirror above my bed. What's your statement piece? If you don't have one, here are a few:


For daily style inspiration and a chance for us to connect everyday, follow me on Instagram! I post on my stories daily for a look behind the blog and much more!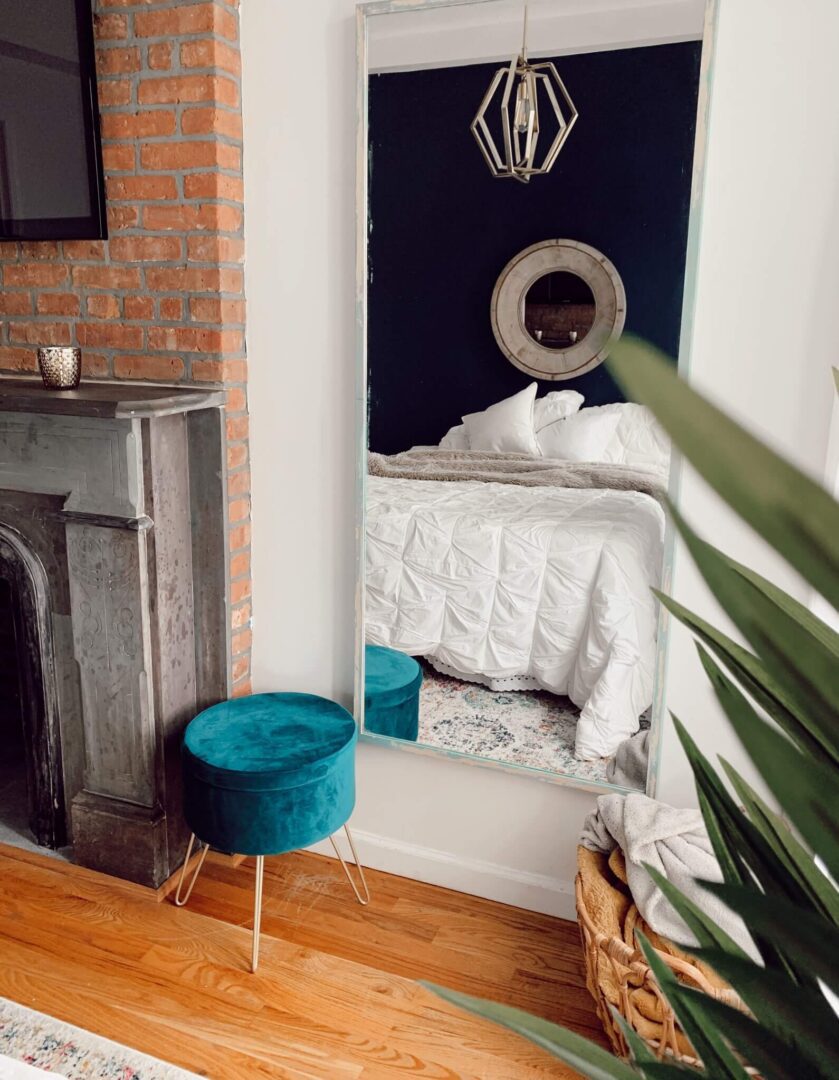 *Bedroom wall color is Nocturnal Sea by Behr
Shop my bedroom

Other great places to shop bedroom décor
Target — Specifically their Opalhouse line for budget-friendly boho vibes
Overstock & Wayfair — So much variety and free shipping
Pottery Barn — High quality pieces you'll have for a lifetime
Amazon — Good knock off pieces
Anthropologie — Beautiful and unique boho pieces
Which are your favorite picks from my small bedroom décor?
---
DISCLOSURE| SOME OF THE LINKS ABOVE ARE AFFILIATE LINKS, MEANING AT NO ADDITIONAL COST TO YOU, I WILL EARN A COMMISSION IF YOU CLICK THROUGH AND MAKE A PURCHASE
Post Photos taken by Jonathan Paul
Download my e-book!