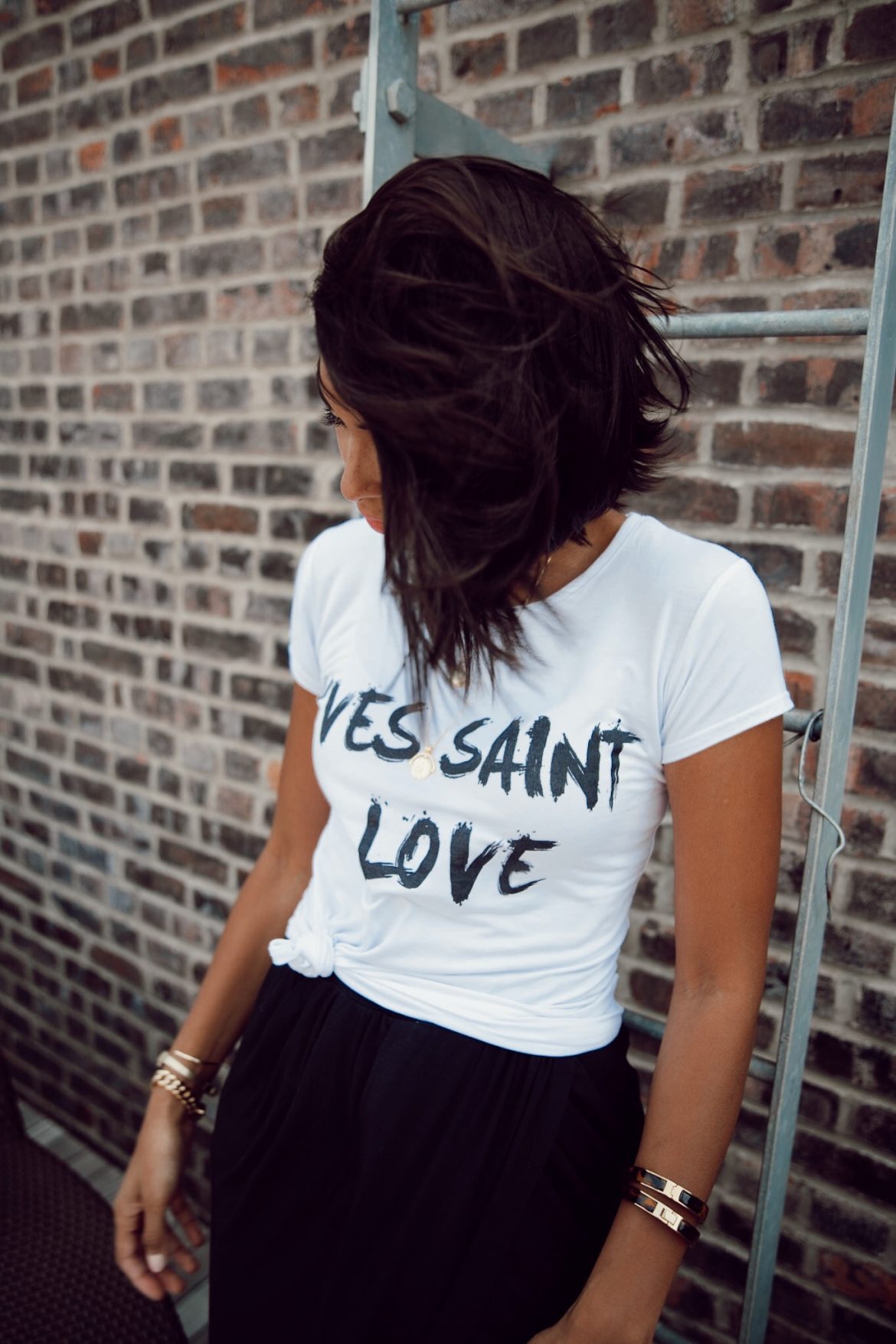 So I'm probably not the only person who is obsessed with t-shirts, right? Ever since I started working from home I live in a t-shirt. My closet is stacked with at least 15 white t-shirts and about 10 gray ones. Everyone knows a t-shirt and a pair of jeans is the ultimate classic/cool outfit combination to ever exist. But besides pairing your t-shirt with denim, how else can you style the basic of all basics wardrobe piece? Since I wear t-shirts for a living I figured I'd share with you guys a few of my tips and new ways to style your t-shirts.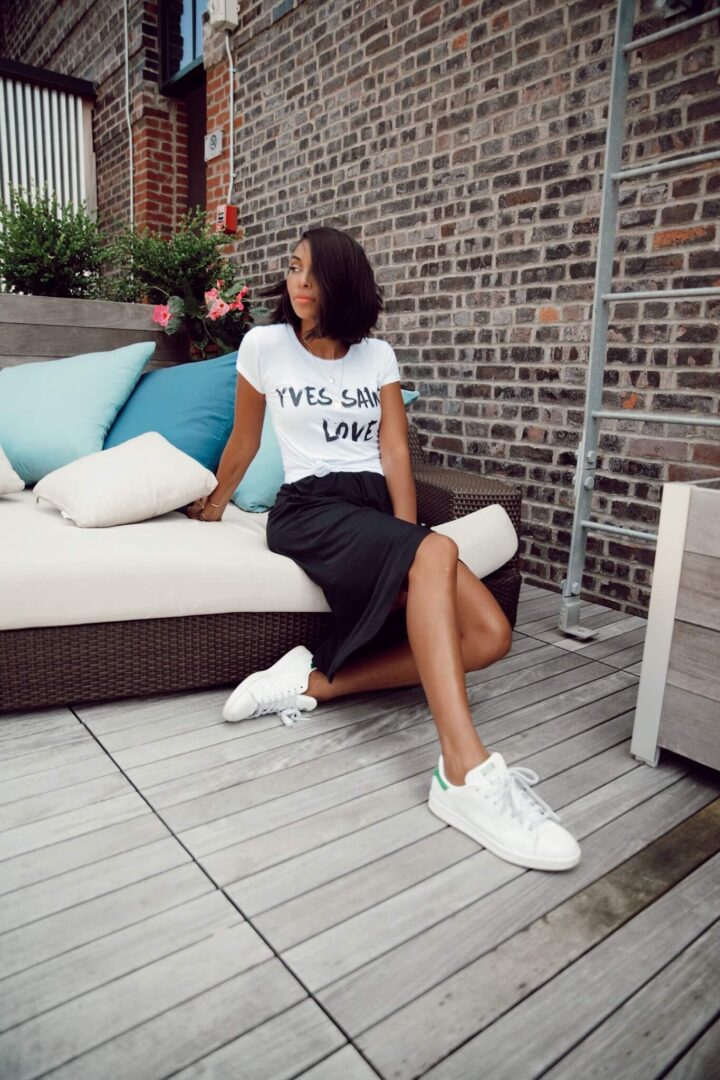 1
Tie a knot
I wouldn't recommend doing this in the winter, it definitely has a more summer appeal. You can tie a knot in the front (like I did in this post) or in the back. Wearing your t-shirt in a knot can be paired with any bottom — even your bathing suit bottom. Try it out this summer, use your t-shirt as your swimwear cover-up — It's an effortless way to head to the beach.
2
Pair your t-shirt with cutoff shorts and a blazer
I love this look! It's super edgy and fun but also comfortable! You can also be versatile with the shoes you wear. I especially love this look with a pair of classic white sneakers. You can go bold with a pair of chunky dad sneakers or feminine in a pair of strappy sandals or pumps.
3
Wear with a skirt and sneakers
This is a big summer do! It's airy and light and so easy. This outfit combo is the exact one I am wearing in this post. You can rock any kind of skirt too! A pleated skirt and your favorite kicks are also an unexpected way to wear your favorite t-shirt.
4
Wear your tee with biker shorts
I have not taken off my biker shorts this season, they are basically summer leggings- except way trendier. I wear my black biker shorts with any t-shirt in my closet and simply switch out the sneakers. It's a ridiculously comfortable way to spend the day running errands. For a more pulled together look, tuck your tee just slightly into your biker shorts.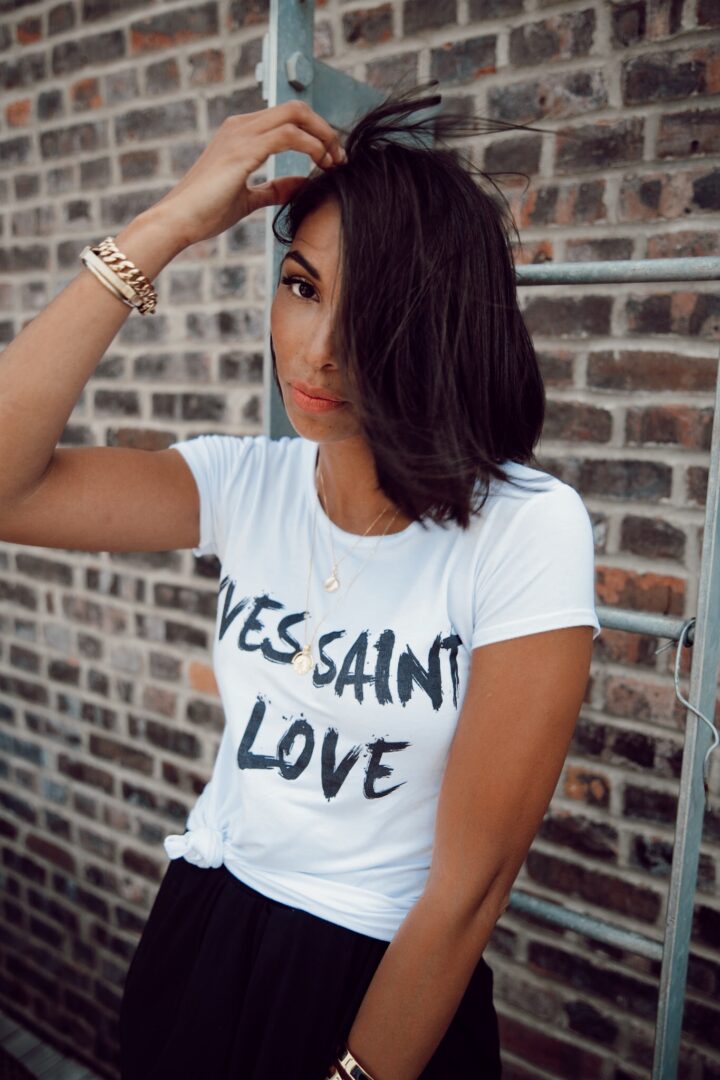 Looking for a fun t-shirt?
My t-shirt is from Femme Luxe, a UK brand that's a staple for me now that we can shop it in the US. Femme Luxe offers a fun selection of t-shirts in different colors and graphics — this Love Ya Self Tee in black and the Yves Saint Love Tee in white are my favorites from their collection. Did I mention these t-shirts are less than 10 dollars?!
While staying on trend, Femme Luxe manages to make styles on a budget, offering stylish products at low prices. They offer basics, statement pieces and everything in between, so you can find your t-shirts,  bodysuits, jeans, dresses, shapewear, and accessories all in one place.
Check out Femme Luxe and let me know how you're styling your t-shirt this season.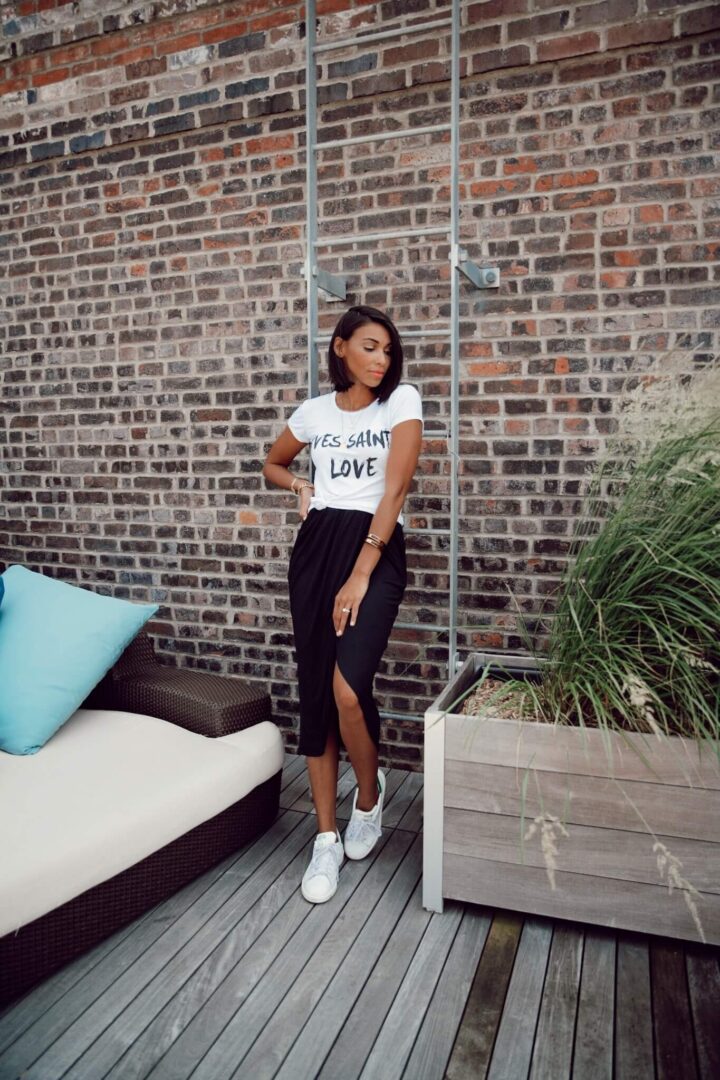 ---
This shop has been compensated by FEMME LUXE and its advertiser. All opinions are mine alone. 
Photos by Jonathan Williams